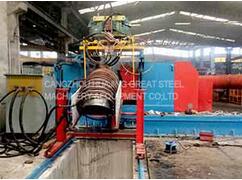 Medium frequency hot induction elbow making machine adopts medium frequency induction heating, this type elbow forming device is our conventional manufactured items.

With the advancement of steel pipe deep processing, Induction hot elbow machine has actually got well-rounded technology improvement. Now our elbow machine has actually composited over brief stress line, prod cast broaden size innovation.

Induction hot elbow forming device clamp gate and load raw product we all adopt hydraulic control.